Welcome to Aigredoux, specialist in the manufacturing of artisanal bed linens, table linens and bath linens on demand. All collections are made in France in its workshops in Vendée.
Our story
Behind the name Aigredoux reveals a family business specializing in textiles for 3 generations. It is with true passion and love that the company preserves and perpetuates French craftsmanship in the manufacturing of household linens.
Aigredoux began as a manufacturer serving high-end and luxury household linen brands. Little by little, Aigredoux began to develop its own products, finally launching its own distinguished brand in 2012.
Unique 'savoir-faire'
Aigredoux owes its exceptional textile "savoir-faire" to its strong attachment to traditional manufacturing techniques.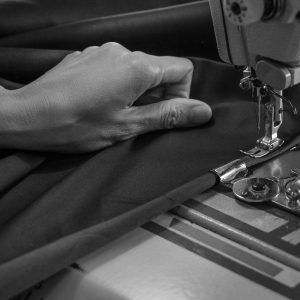 Aigredoux has known how to span generations by combining traditional manual techniques with the modernity of its manufacturing tools.
Over time, the company has been able to adapt the sewing techniques of our grandmothers to mechanical machines coupled with precision manual finishes.
Every day, Aigredoux invests its energy into preserving this bridge between the past and the present.
This expert craftsmanship is repeated daily, and in doing so, knowledge is transmitted to future generations to maintain our rich French textile heritage.
The workshops
The textile manufacturing workshops are located in Vendée, a dynamic and historical stronghold of industrial textile tradition. The family business has always ensured each stage of the linen manufacturing process: from the choice of yarn, through the tailoring, embroidery, hand finishing, all the way to shipment.
Aigredoux is proud of its machinery, which contributes to the preservation of France's industrial heritage. The "old" machines are as eternally tested as the "up-to-date machine". Others, such as "the embroidery machine", are among the last to still be used in France.
It is thanks to the preservation of these trades that Aigredoux offers homemade items of incomparable quality that cannot be reproduced by contemporary manufacturing processes.
Values
Aigredoux offers luxurious, unique and entirely made in France household linens. It is a simple and subtle commitment that the company makes with its customers, in offering one-of-a-kind products without any equivalent in the world.