The quality of the bed linen plays a decisive role in your quality of sleep.
With noble materials, perfect cuts, top-of-the-line finishes, and artisanal tailoring: Aigredoux promises you a unique sleeping experience. Each bedding set is made to order in the purest French textile tradition; with exceptional materials selected for their long natural fibers, bringing soft and resistant quality.
Cotton sateen, cotton percale, linen ... Which material to choose according to the season? Follow the guide and treat yourself to an exceptional bedding set.
Spring / summer bed linens
It's the grand return of mild, even scorching nights...
We favor natural materials that let the skin breathe.
Cotton percale
Absorbent and silky to the touch, cotton percale is fresh and befittingly popular in the summer months. Its regular and firm weave lends a softer and more resistant fabric than traditional cotton and an incomparable cozy feeling.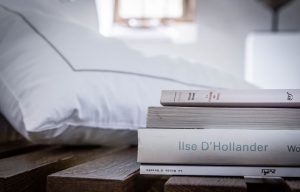 Linen
Among the best fabrics to choose from in the summer is linen. Thermoregulatory and highly absorbent, it captures humidity and ensures good air circulation. Its breathability and freshness makes it an essential ally during the summer months.
Fall / winter bed linens
The rain, wind and the first frost announce winter and the desire to take refuge in a cozy bed...
Cotton sateen
Akin to cotton percale, cotton sateen designates a mode of weaving. Woven tighter and more finely, it is extremely soft and supple. Its satin finish delights lovers of comfort and elegance. It brings both warmth and comfort.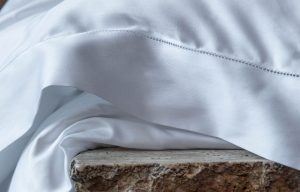 Accessories
The colder months are the ideal time to accessorize your bed with the addition of a comforter, throw blanket ...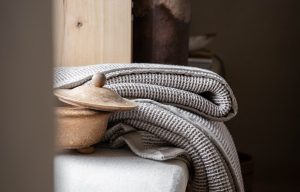 We tastefully blend cotton and wool for warm and peaceful nights.
Wool is a remarkable, healthy and breathable material with thermoregulatory properties. It protects against the cold without making you sweat. Its elasticity provides unparalleled softness and rebound.
Combined with the softness of cotton and its ventilation properties, this precious blend suits people looking for a high level of comfort.
Project ideas ? Entrust us with the creation of your bed linen.